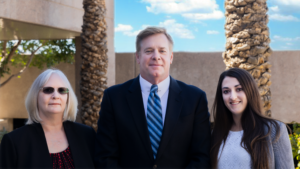 DeConcini McDonald Yetwin & Lacy is proud to announce that their Phoenix office has been honored as a top law firm in Mental Health Law in Arizona. The firm was voted #1 in the Mental Health Law category for the second year in a row. Attorney John H. Barron, III, member of Barron & Associates, PC Of Counsel, is the managing Shareholder for the DMYL Phoenix office. Attor
neys Lisa J. Bowey and Megan J. Trog work together with Mr. Barron in providing Mental Health Law, Elder Law, and Estate Planning services in Phoenix and in other regions in the Arizona.
John H. Barron, III has been a leader in Mental Health Law, Planning Litigation, and Probate Law in Arizona for over 25 years. Mr. Barron has served in the community in various State Bar legislative committees and actively participates in the drafting of many guardianship, conservatorship, surrogacy and mental health statues, as well as sitting on the Supreme Court Task force for the creation of the new Arizona Rules of Probate Procedure. Barron and Associates have also been honored as one of Martindale-Hubbell's 2021 Gold Client Champion Law Firms.
For more than 20 years, Ranking Arizona, an AZ Big Media magazine, has been Arizona's largest business opinion poll. More than 1 million participants vote to give their recommendations based on the quality of the service and whom they would recommend doing business. The public opinion poll is narrow down to the top ten companies in each of the 300 categories and are listed by in ranked order in the annual publication.
---
Barron and Associates, originally Barron & Polk, was founded in 2001, and in 2006, the firm became Of Counsel to DeConcini McDonald Yetwin & Lacy, PC, a full service, multidisciplinary legal firm. Attorneys possess the knowledge and experience to solve a wide spectrum of complex legal issues for individuals, businesses and governmental clients.